Gianni Tizraoui, a first year student of our Television Programming Training program won the Special Prize of the III. Film Festival of Cegléd, Hungary held on the 27th April.
The contestants could nominated thir works in three categories, with short movies or animated movies with a maximum lenght of 25 minutes.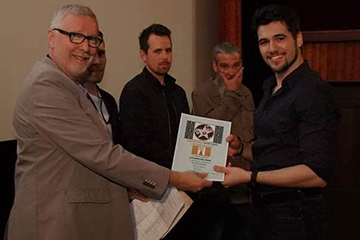 Gianni publishes his works under the name Leonardo Delavega. He nominated a few of his short movies for the competition among which "Go" was awarded a special prize by the Hungarian Hollywood Council.
The winner movie can be found on Leonardo's Youtube Channel: https://www.youtube.com/watch?v=1VLs1RKQkNY