If you wish to apply to one of our study programmes with Diaspora Scholarship, you need to apply through the online application system of the scholarship programme and choose your selected study programme at the University of Dunaújváros as your first priority.

When registering your data in the application portal be sure to state your name and other relevant data exactly the same way as it appears in your official documents (e.g. passport).
   HOW TO APPLY   

Register in the system by providing your basic personal information.
Choose your study programme at the University of Dunaújváros by selecting:
Institution: the University of Dunaújváros
Study level: bachelor OR master
Study modes: full degree studies OR partial/exchange studies
   APPLICATION CRITERIA   

Hungarian identity and connection to a diaspora community declared in a motivation letter and a statement,
residency in one of the supported regions,
recommendation letter from a Diaspora Organisation or the Hungarian Representation of the respective territory,
living outside Hungary for at least 10 years before the submission of the application,
4 years of applicant's secondary school studies completed outside Hungary,
applicant was born before 31 August 2004 (except those applying for Dance study programmes),
applicant undertakes to learn Hungarian as a foreign language and Hungarian culture during his/her whole study period and undertakes to pass a Hungarian as a foreign language exam at CEFR B2 level minimum,
applicant undertakes to help the local Hungarian diaspora organisation in a foreign country with community work for the specified period in the Call for Applications after graduation.
   CALL FOR APPLICATION 2022-23   

You can find the new call for applications and related information for bachelor's and master's programmes 2022/2023 HERE.
   APPLICATION TIMELINE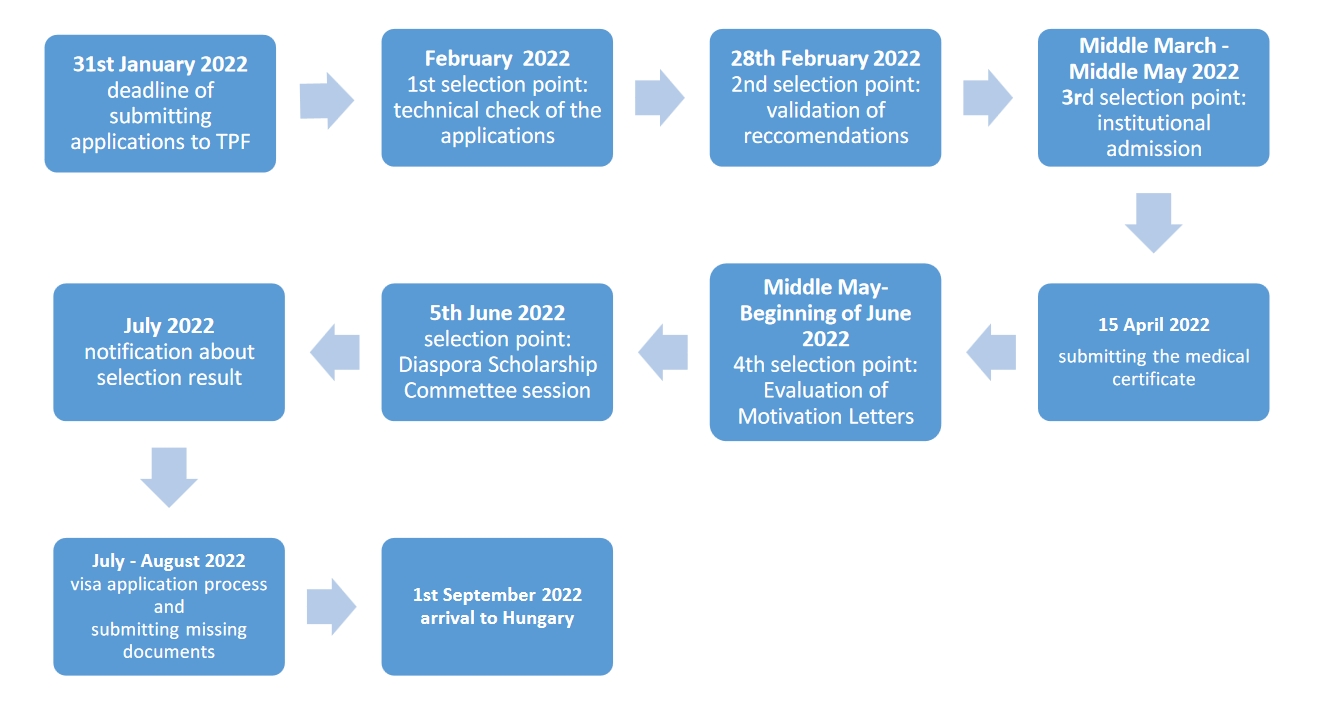 The applicant must complete the admission requirements set by the host higher education institution. The admission process is managed by higher education institutions online.
The motivation letter will be evaluated by a professional body, the Evaluation Committee, composed of members invited by the Ministry of Foreign Affairs and Trade. The award of the scholarship is based on the results of the admission procedure and the proposal of the Evaluation Committee.
In case of any questions, please contact our coordinator responsible for the Diaspora Scholarship Programme:
Ms. Amadea Tóth
Email

This email address is being protected from spambots. You need JavaScript enabled to view it.