As a further step in our already more than 3-year-old cooperation with the Ural Federal University (UrFU) in Ekaterinburg, Russia three representatives of UrFU
Edward Patrakov, the Head of Department of Social Safety,
Aleksandr Zhilin, an associate professor from the Institute of New Materials and Technologies,
Damir Bajtimirov, a professor of the Physical Engineering Faculty
 visited our campus from the 3rd April to the 7th April 2017 within the frames of Erasmus+ international credit mobility program.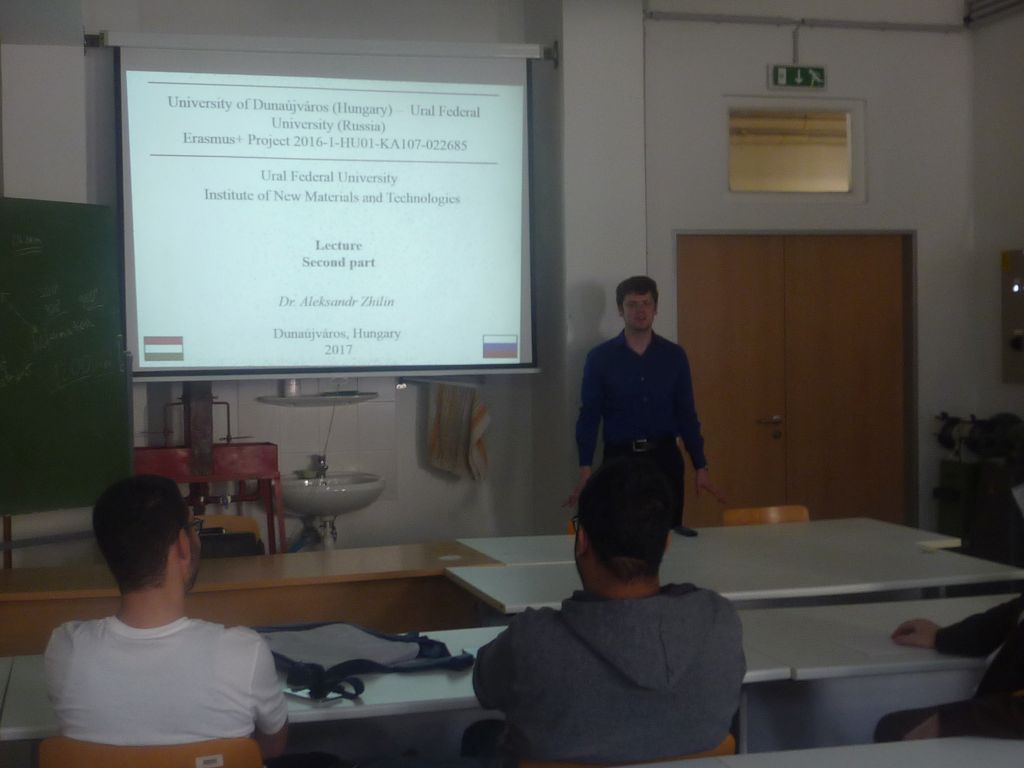 Dr. Aleksandr Zhilin gave lectures to our international engineering students about the concept of degradation and failure assessment in construction materials, their important role in safe and reliable operation of high risk components and facilities.
Dr. Edward Patrakov continued negotiations with Dr. Katalin Kukoreli and Dr. Noémi Piricz, the representatives of our Social Sciences Institute and Dr. Csilla Szabó Marianna, the Director of our Teacher Training Institute in order to discuss further cooperation opportunities in research and education with the Hungarian colleagues.
After visiting the laboratories of our Institute of Engineering sciences and collecting information about the technical capabilities of the laboratories Dr. Aleksandr Zhilin and Dr. Damir Bajtimirov met Dr. Miklós Horváth, the Director of our Institute of Engineering Sciences and Dr. Judit Pázmán, the Head of the Materials Science Department to prepare the future mobilities of the engineering students from UrFU to the University of Dunaújváros within the international credit mobility program and to outline the potential ways of collaboration in testing and development of engineering materials.
As another essential part of their program our guests also had the opportunity to share their good experience in teaching with the lecturers of the teaching departments of our university and Dr. Edward Patrakov and Dr. Aleksandr Zhilin had checked and evaluated the already fulfiled and the new tasks of Erasmus+ international credit mobility project organisation and management in the form of a negotiation with the international relations coordinators of UOD. Mr. Zhilin also expressed their wish to start new cooperations in frame of the Erasmus + programme, especiall in the Strategic Partnership programme.