In accordance with Selmec Student Traditions, at the end of each academic year, we bid farewell to our graduating students with a torchlight procession, the so-called Salamander. This year's event will take place on Thursday, 25 May from 8:00 pm.
The event will start on May 25, 2023 (Thursday) at 8:00 p.m. in front of the hostel building nr. 33. According to the tradition graduating students will walk through the city, accompagnied by first and second year students, the Rector, Vice Rectors and  professors of the university. The procession will make a stop on the square at the Municipality building, where Mayor Tamás Pintér will greet the graduating students. Then students will continue their way through the city center to the final destination: the main building of the university, where the Rector says farewell to last year students in his Salamander speech.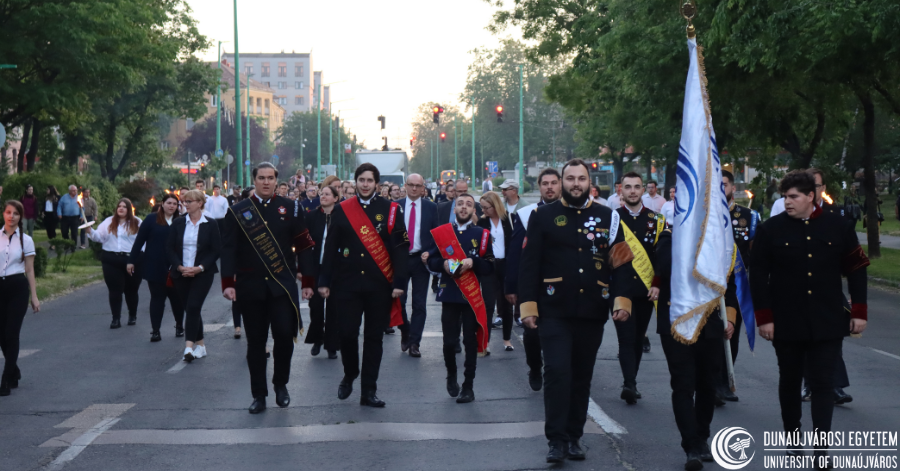 The procession got its name from the amphibian called the spotted salamander, as the movement from one side of the street to the other imitates the serpentine movement of the salamander, to which the moving lights of the miner's lamps add a special atmosphere with their eerie illumination. The parade was always held at dusk, when the play of light from the illuminated mine lamps and torches was most effective.
During the event, our traditional songs of the different study majors and other so called "bursch songs" will be performed by the tradition keepers.
After the ceremony students will have the possibility to continue the evening in a more informal way at the B-Club, where a farewell party will be held as from 11 p.m.
We welcome all our current and already graduated students to this noble event.