On Thursday 10.11.2022, the University of Dunaújváros Week of Science ended with the Nuclear Day event, where presentations were given on the peaceful use of nuclear energy and the internationalization of higher education, its experiences, and opportunities.
The first, English-language session of the Nuclear Day was opened by István L. Szabó, Director General of Nuclear and International Affairs, followed by four presentations on the role of the energy market and nuclear energy, the challenges of the energy market, and the nuclear education strategy of the University of Dunaújváros. Prof. Alexander V. Putilov, Doctor of Engineering at the Moscow National Research Nuclear University MEPhI, demonstrated the development of VVER reactors, and Biranna Lazerwitz, Head of the Department of Economics, Nuclear Energy Division, International Atomic Energy Agency, spoke about the place of nuclear energy in the energy mix of the 2050 transition.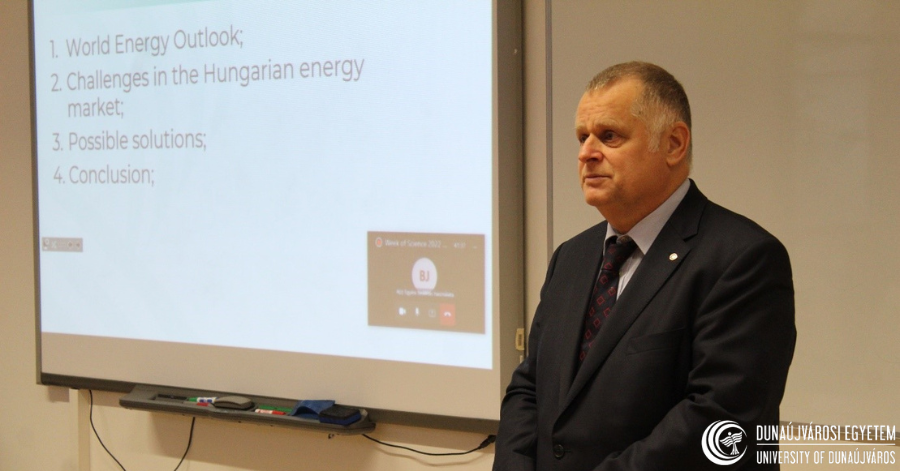 Pál Kovács, Vice President of MEKH responsible for energy, gave a presentation on "Energy market challenges"
In the next session, speakers presented online, in English, on the current state of international relations and the implementation of Erasmus projects. Experiences and opportunities of the Erasmus project were presented, cooperation between students and partners within the Erasmus+ Programme was discussed, and there was also an interesting presentation on the challenges faced by international students.
Nuclear Day marked the end of this year's Week of Science at the University of Dunaújváros.