As closing event of their Hungarian program, members of the Academia NDT International visited the University's Paks Competence and Research Centre which was recently set up with the help of Government support.
The Academia ( www.academia-ndt.org ) was established by leading scientists, researchers and experienced industry players in the field of non-destructive testing (NDT) in 2008. Its mission is to bring together scientists bridging the gap between the technical and scientific disciplines and NDT. In 2021 Peter Trampus, professor emeritus of the University of Dunaújváros took over the presidency of the Academia NDT International.
The key ambition of establishing the Paks Competence and Research Centre was to support the construction of the two nuclear new builds by providing expert advice and training in the areas of materials technology, materials testing, evaluation as well as welding. The education and research profile of the University is traditionally oriented to materials and mechanical engineering, both served by the laboratories and further technical workshops. A technical culture has been evolved in the teacher and researcher staff. The geographical proximity to the neighbouring Paks 2 new builds under construction has certain benefit from the point of view of communication and necessary operative actions. The University is proud of the long history of excellent working relationship with the operating Paks Nuclear Power Plant which helped the staff to be familiar with the nuclear safety culture.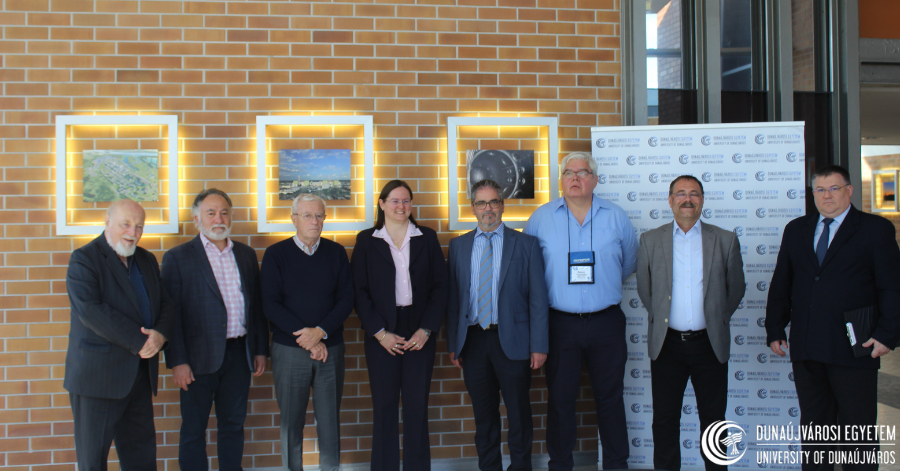 Structural integrity of mechanical components and systems is paramount to the plant safety. Structural integrity must continuously be ensured during components manufacturing, plant construction, commissioning and operation. The most important tools for this are the testing of structural materials, the be aware of the components' actual condition and expected performance. In fact the necessary and large volume materials testing of the NPP will be carried out by service providers taking part in the construction works, experiences however show that tasks requiring knowledge exceeding the routine capability arise, which can be solved only by the complex team of a competent research centre founded at the University.
The delegation of the Academia NDT International collected vivid impressions regarding the University's NDT laboratory including some of the research topics of Paks Competence and Research Centre. The visitors appreciated the concept of going beyond the routine capabilities of materials testing which led to the complex Research Centre's creation.