Location, location, location. Ask any of the of the students heading off to study abroad, and you are bound to hear that the location of the campus played a major part in their final decision.
By reaching the end of this article you will agree that our modern campus is another very important reason why we think that the University of Dunaújváros will be an excellent choice for you!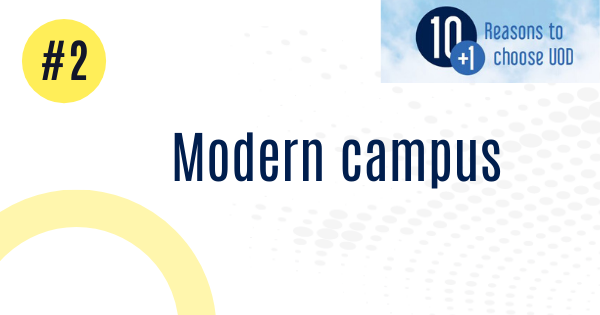 Any great institution always thrives upon great infrastructure. The infrastructural development of the University of Dunaújváros is very impressive. The construction of the new university campus at the beginning of the millenium is one of the greatest achievements of the University. It consists of 15 buildings forming a complex of modern classrooms, lecture halls, a public library, professional laboratories, sport and leisure facilities and newly renovated student hostels.
We also have a huge public park in front of our main building with a fountain, a bio-pond and planted areas. UOD has great laboratories, as well, a part of which serves the practical needs of our education, and quite a few of them are devoted to research & development in cooperation with the significant industrial companies of our region.
UOD campus provides the academic and student community with an ideal environment for both living and learning. Check what our students have to say about UOD Campus:
Tamim Abo Saleh – Syria
"I have studied for 4 years at the University of Dunaújváros and I was satisfied with the tools and equipments provided by the school, as I studied Computer Science Engineering, computers, labs, and tools were always a great support for me to successfully complete my studies."
Ahmad Akhlaq –Pakistan
"University campus inspires me alot. All the departments are at walking distance from student dorms, library and main building. We have library and specific places in F, P building to focus on our learning in free time. Front view of main building provides relief and relaxation."
For campus photos and information on different facilities, visit our Campus tour post series on THIS LINK.