Dr. Attila Kővári, professor of the University of Dunaújváros was awarded the Gold Medal for Excellence in Supervising at the ceremonial closing session of the 34th National Scientific Students' Associations Conference held on 31 October 2019 in the Ceremonial Hall of the Hungarian Academy of Sciences.

The award "Gold Medal for Excellence in Supervising" has been founded by the National Council of Student Research Societies (OTDT) in 1997. The purpose of the Gold Medal is to acknowledge and encourage the tireless work of those teachers and researchers whose achievement is exceptional in supervising and promoting extracurricular student research, self-study and artistic activity over an extended time period (ten years at minimum).
The Medal was given by State Secretary Dr. József Bódis from the Ministry for Innovation and Technology, Dr. Péter Szendrő, President of OTDT and Dr. Béla Pénzes Chairman of the Foundation for Student Scientific Council.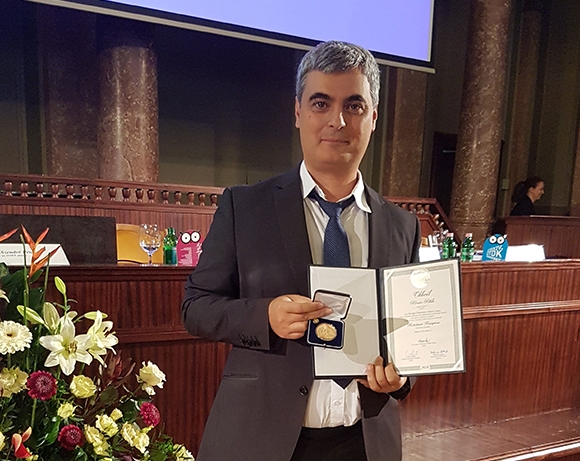 Congratulations to Dr. Attila Kővári for the award!